WEbook's December Newsletter
09:18
Welcome to the final WEbook newsletter of 2014!
It's been quite a year for all of us at WEbook - both staff and members alike. Following on from WEbook's relaunch as a publisher back in 2013, we've fully embraced our new role and by the end of the year we will have published ten WEbook titles, with even more on the way for 2015.
We'll also be giving some updates on the upcoming
WEbook Challenge Anthology
, discussing how you can improve your writing by avoiding using clichés (because Christmas is prime cliché time!), and of course our regular
Member Spotlights
and
Member of the Month
nominations!
As ever, we're on the look-out for more members to publish as WEbooks, so this month we're going to be asking for YOUR nominations. Do you have a favourite author on the site who you'd love to see published?
Let us know!
Merry Christmas and a Happy New Year from the WEbook Team
See you in 2015!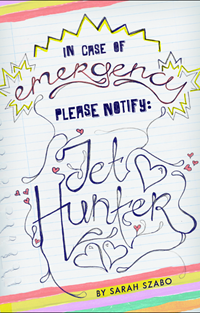 "Ok. Unless you're Jet Hunter - this is not for you but I get it. It's a blistering read and what else have you got to do? I recorded my life over the 53 days of this summer holiday – warts and all (honesty is the best policy when it comes to other people's shortcomings). Anyway If you've chosen to come along for the ride, don't tell Nicole and keep your mitts off Jet Hunter."
WEbook's Book of the Month for December is our newest release, In Case of Emergency Please Notify: Jet Hunter, by Sarah Szabo.


Sarah is a freelance lifestyle journalist based in Australia who was picked up for publication under WEbook's previous ownership.

In Case of Emergency Please Notify: Jet Hunter

won a peer voted competition for WEbook publication, but unfortunately by the time everything was ready, WEbook had gone offline... and that's where we come in! After posting a link to the book on the site, it was noticed by one of our editors and we jumped to offer Sarah a second chance for

Jet Hunter

to become a WEbook - which she happily accepted!
This month we have decided to honour some of our members who gave the most back to the community with their ratings! Initially this seemed like an easy task, but soon we realised that so many of you were rating so many P2F submissions that we couldn't just give one of you the credit.
So, here is our leaderboard:

Don't Borrow - Invent!
Although it's tempting to re-write the stories you already know, this is exactly where you'll find yourself using the most clichés. The same stories written again and again risk falling into a trap of familiarity where you'll find yourself employing over-used phrases such as 'frightened to death', 'head over heels', 'woke up on the wrong side of the bed',
and hundreds more
.
The best way to avoid this is to write about what
you
know and ideally, have experienced yourself. Never been to space? Then don't write about your journey there. Been scuba diving? Then write about your
personal
experience. Think about your own impressions, write them down and create your own,
original
turns of phrase.
Slow. It. Down.
There is a common self-consciousness surrounding 'boring' the reader, which more often than not means that a story can become rushed and dotted with cliché. When detail is omitted either through editing or overuse of cliché to characterise using stereotypes, the scene is often not set well enough for the reader to become immersed in a story.

Try this writing experiment: write a story which you think will bore the reader with detail and then write one which you think is going to be exciting and hold their attention. Get some feedback from your writing buddies on which one they think is the better piece. You'll likely find yourself surprised at the outcome...
Melodrama is for Teens
Life is not a continual stream of interesting and earth-shattering events. Remember this when you're writing. Your readers will become much more immersed in the story you tell them if you leave the melodrama at home with your teenage self. Employing gratuitous depictions of events render them unbelievable to your reader and you'll find yourself relying on cliché to make your events sound more grounded and realistic.

High-action is one thing, but when this is all the story contains, your readers will quickly become desensitised and loose interest in the events. Keep them on the edges of their seats, tease them and then let the drama out!
This month we're giving away five copies of Sarah Szabo's In Case of Emergency Please Notify: Jet Hunter. To be in with a chance of winning, all you need to do is answer this simple question:


What 53 day holiday period is 'In Case of Emergency Please Notify: Jet Hunter' set in?